Is it a plane? Is it a truck? Is it a train? It's the new bucket full of Clics building blocks! This starter pack will turn playing with building blocks into SOOOO much fun! Admit it, what is more fun than a toy train? Building that toy train yourself with building blocks! This way, it will be totally unique and exactly the way you want it to be.
Woosh! That's how fast time flies when playing with the new Clics bucket
Why? Simply because that bucket is filled with Clics and therefore also filled with inspiration. Inspiration to play with building blocks using the free building plans, but more importantly to be creative and use your imagination. Even the least ambitious creative builder will instantly recognize the huge potential of this bucket. You won't see Clics, you'll see the toy truck you have been meaning to build for so long, or the toy airplane that will take you around the world. In short, you'll see tons of building fun and endless possibilities and gorgeous, creative results of playing with building blocks.
Do you know how to count to 122?
Fortunately, that is not imperative for you to be able to play with the building blocks this Clics bucket contains. There's no need to go and count all building blocks before the playing fun can begin. Just grab one of the included building plans or let your imagination run wild. Your construction will be finished to perfection using the 38 accessories and stickers.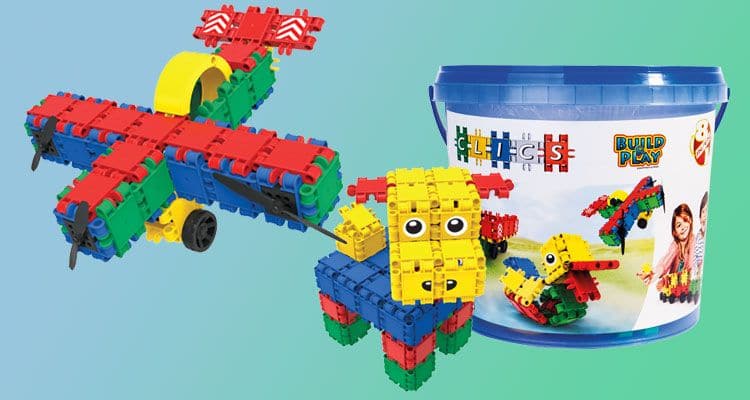 More good news
Of course you can build a lot more than just a toy airplane or a toy truck or train with this Clics bucket. Do you prefer animals? Than the cute little duckling may be your favorite. But in essence you can build just about anything you can think of with this bucket. Just don't forget to share the result with us?
Are you ready for the new Clics? Discover them all in our shop and order them right away!